I know, I know, I'm a little behind with this cooking baking deal that I promised everyone but honestly did you expect any differently? Procrastination...isn't it wonderful? Anyway, here is cookie number two and it is really yummy.
Mrs. Sigg's Snickerdoodles~
allrecipes.com
Ingredients:
1/2 cup butter, softened
1/2 cup shortening
1 1/2 cups white sugar
2 eggs
2 teaspoons vanilla extract
2 3/4 cups all-purpose flour
2 teaspoons cream of tartar
1 teaspoon baking soda
1/4 teaspoon salt
2 tablespoons white sugar
2 teaspoons ground cinnamon
Directions:
1.)
Preheat oven to 400 degrees F (200 degrees C).
2.)
Cream together butter, shortening, 1 1/2 cups sugar, the eggs and the vanilla. Blend in the flour, cream of tartar, soda and salt. Shape dough by rounded spoonfuls into balls.
3.)
Mix the 2 tablespoons sugar and the cinnamon. Roll balls of dough in mixture. Place 2 inches apart on ungreased baking sheets.
4.)
Bake 8 to 10 minutes, or until set but not too hard. Remove immediately from baking sheets.
I got a little under three dozen cookies out of this batch which means lots of snickerdoodles to munch on during the week!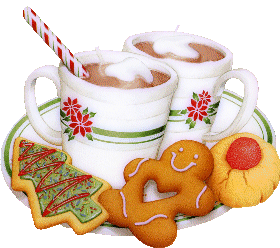 glitter-graphics.com