Yes, I am about to share yet another grilled chicken recipe for you. I wasn't joking with you when I told you that my husband loves to grill and try out new marinades. It cracks me up when people say that they have put their grills and grilling recipes away for the season because I come from a long line of morons who like to grill in three feet of snow and Sunday night was no exception...well without the snow anyway. Daniel found this recipe in Low & Slow by Gary Wiviott and Colleen Rush and I must say, to date this has been one of our favorites. We made enough that we had a piece each for lunch the next day and Daniel said it was even better the next day, I thought it was awesome both days so I couldn't agree more. Some of you may have to wait until the new grilling season begins but for those of you who are willing to brave the cold elements like we are then please try this out!!
Once again my computer has hijacked my pictures. I swear I see the picture download into my folder and then when I go back to retrieve it...it's gone, vanished, no where to be seen. And then to make things even stranger, they magically appear days later like the picture for the chili dog casserole did.
Italian Marinade~
Ingredients:
1 1/2 cup canola oil, we used vegetable oil
1/2 cup plus 2 tbsp. red wine vinegar
2 tbsp. minced fresh oregano, or 2 tsp. dried oregano, he used dried
1 tbsp. dijon mustard
2 garlic cloves, peeled and chopped
1 tsp. kosher salt, he used sea salt
1 tsp. freshly ground black pepper
1/4 cup marinated roasted red peppers, drained and chopped, he used a couple of dashes of red pepper flakes
1 tbsp. capers, he omitted
Directions:
1.) In a medium bowl whisk together ingredients until the mixture is well blended.
2.) In a large zip-loc bad or large bowl with lid, add chicken to marinade. Allow to sit for 4-6 hours, turning the chicken once or twice to allow each side to evenly marinate.
Grill until no longer pink but still juicy!!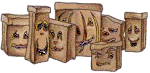 glitter-graphics.com