I absolutely adore this time of year. I think it has something to do with the Christmas carols, decorations, and the sense of family that seems so strong during these times. Another one of my favorite things about the Christmas season are cookies, lots and lots of cookies, and I think my husband couldn't agree more.
I am going to branch out of just doing cookies and hopefully incorporate quick breads to go along with all of the other baked goodness in our home. I am excited for our 2nd annual cookie exchange as well as baking for gifts and those just because moments.
I have compiled a list of items I hope to make during the next 24 days. Thank goodness my MIL Sue stocked piled our freezer with butter, I do believe I will use every last pound over the course of these next few weeks. The goal is to make two to three different kinds each week, I will be more than happy if I can knock out one. I have listed each cookie that will be made for each week but in true Katie fashion, please do not hold this to me as things change with my moods daily...LOL. For all I know I may not feel like snickerdoodles on snickerdoodle day and instead throw together some peanut butter cookies...who knows, it's all a part of the fun!
Week One:
Festive Shortbread
- Can you go wrong with shortbread?
Lemon Coolers
- My sister Nikki loves lemon and this seemed really refreshing.
Double Chocolate Cookies by Eagle Brand
- Double chocolate...enough said!
Week Two:
Dutch Apple Loaf
- I have a bushel of apples coming my way, need recipes to use them up in.
Snickerdoodles
- Simple and easy to make, what child doesn't love cinnamon and sugar combined?
Peppermint Cookies
- Cookies with a nice little crunch.
Week Three:
Chocolate Crinkle Cookies
- The family favorite which I have never made all by myself.
Traditional Christmas Sugar Cookie
- Because everyone needs to decorate cookies at least once during the season!!
Strawberry Bread
- I love strawberries and who can resist a layer of cream cheese goodness in between layers?
I am still deciding if week one will start this week or if I will push it off until next Monday. If that is the case I will do my best to knock one recipe out this week that may or may not be listed above. That will also mean some additions for the week of Christmas. Here are a few more that I would like to include but we will see how far I get. I wanted to share them just in case they float your boat further than the items listed above!
Muddy Buddies
- Something sweet to munch on without having to babysit the oven!
Holiday Tree Brownies
- For those of us that don't necessarily have to bake from scratch to enjoy a good treat. I will save these for the cookie exchange since we all sit around and decorate then!
Holiday Thumbprints
- These are most definitely going into rotation, it's a just matter of when.
I wonder if I have bitten off more than I can chew? My kitchen aid is definitaly going to get a workout this month and can I let you in on a little secret? I can't wait!!!!!
What are some of your favorite holiday baked goods that you find yourself making year after year? Feel free to share the links or the actual recipe so that everyone else can enjoy!
Here are some of the sites I stumbled upon the recipes at! For those of you with young children or who are young at heart like myself...whoever said Santa doesn't exist needs to be whipped, here is a great
site
to visit.
northpole.com
bettycrocker.com
allrecipes.com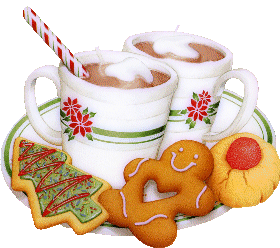 glitter-graphics.com